Body
"The primary mission of the Metra Police Department shall be to safeguard the lives of Metra commuters, its employees and those who use the Metra rail system."
About The Metra Police Department
The Metra Police Department is a professional force of more than 140 sworn officers and civilian support staff who are responsible for the security of Metra passengers, employees, equipment, yards, stations and other Metra property. Metra Police handle a variety of tasks ranging from civilian complaints to criminal activity.
The Metra Police Command Staff is active in creating regional partnerships throughout our service area. In partnership with federal, state and local agencies, Metra participates in various training exercises to promote awareness, to prevent incidents and enhance training for effective response.
The Metra Police Department actively liaisons with the city and state fusion centers, local, state, and federal law enforcement, and has officers embedded in the Chicago FBI Joint Terrorism Task Force.
The Metra Police Department also deploys a Homeland Security Unit comprised of specially trained officers in Special Operations, Train Riding and K9 Explosive Detection Teams.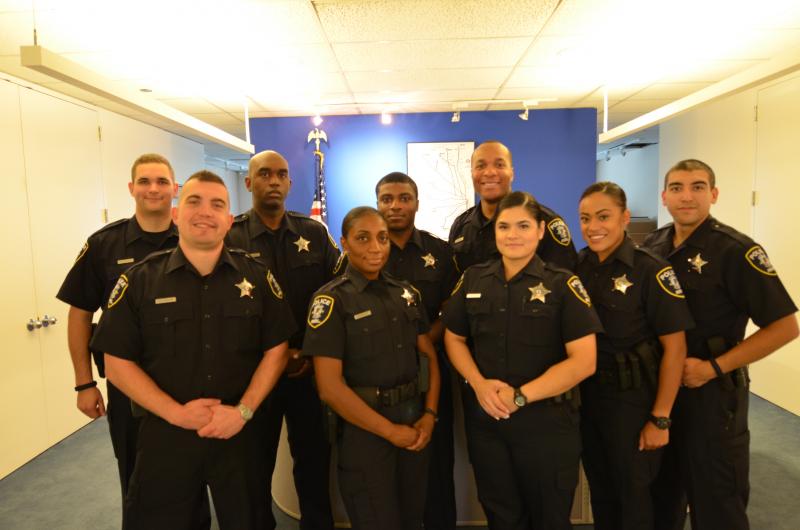 Continuing to Grow
Metra's efforts to reform and modernize the department began in October 2012, when it hired a consultant to perform an assessment of the department's operations and capabilities and provide assistance in adopting best practices in railroad public safety. The report two years later contained a laundry list of recommendations, and Metra hired Joseph Perez as its new chief to lead their adoption.
Guided by his police experience and the consultant report, Perez brought in police veterans from outside Metra and promoted some from within to create a command team with wide and diverse experience. He updated the police policies and procedures manual and made an electronic version that can be accessed by officers anywhere.
Regular training on criminal and traffic law, accident reconstruction, firearms and even a 12-week field training program on all things Metra, including its train operations, procedures, geography and customer service were instituted. In-service training for all officers includes firearm and Taser recertification, defensive tactics, rapid deployment and use of force decision making training using an interactive simulator outfitted with laser enhanced training weapons.
A full-time detective division (including internal investigations) and a new train riding unit were created, whose primary duty is to patrol trains. The unit has ridden more than 7,000 trains this year already, twice as many as the year before.
"Our train riding unit is seeing less and less bad behavior on trains, less and less bad behavior on platforms, because of the visibility provided by that unit, and also our focus on passenger safety," Perez said.
Officers now wear new uniforms and drive new police cars with a different paint scheme that reflects a reformed force. They have been equipped with Tasers (which have reduced injuries to police and arrestees) and body cameras. They have been issued laptops for field reporting and are using new software to write police reports – all in an effort to adopt the best police practices in the country. Even the Metra police patch was redesigned: it now has six stars to represent the six counties Metra serves.
Joining the Metra Police Department
Metra's Police Department looks to hire energetic, self-motivated individuals who are ready for the challenges this kind of work has to offer. Several career paths are available within the agency, and in-house training and certification are provided on a regular basis to assure the protection of Metra's officers, customers, employees, and property.
Applying to the Metra Police Department involves an Officer Entrance Exam, police officer wellness test (PFIT) as mandated by the State of Illinois, personal interviews, background screening, medical evaluation, and psychological screening. Successful candidates hired as recruits are sent to the Police Academy. Upon graduation, the new officers must complete a rigorous Field Training Program and an eighteen-month probationary period. Current Illinois certified officers enter field training immediately upon hire.
We offer the officer entrance exam on an as-needed basis. Check the Metra Rail careers site, located here, for any available career opportunities.
Interested in joining the Metra Police Department? Email us at joinmetrapolice@metrarr.com.