Metra's 2017-2018 Safety Poster and Essay Contest! Show us why you should keep your "Eyes Up, Devices Down: Look, Listen, Live."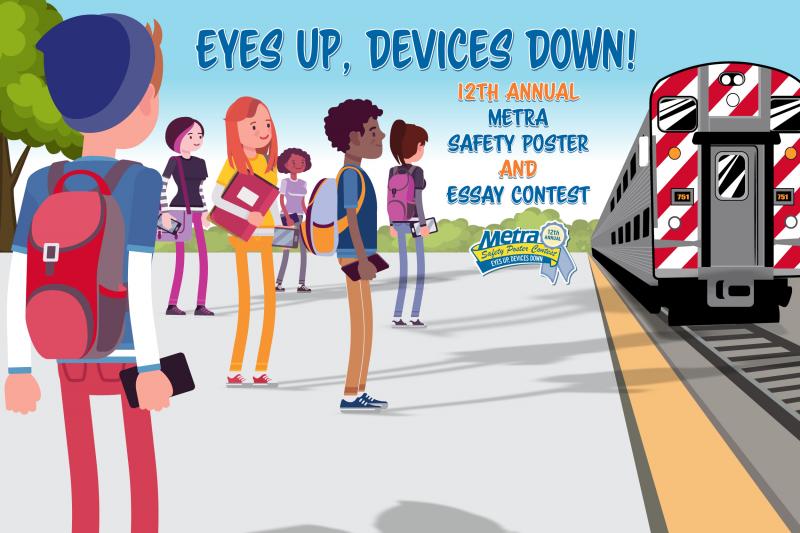 For the 12th straight year, Metra asked the region's students to illustrate through posters or essays the importance of safe behaviors near railroad tracks and rail crossings. The theme for the 2017-2018 school year: "Eyes Up, Devices Down: Look, Listen, Live" taps into the fact that electronic devices and social media are ever present in our lives and the inappropriate use of these tools near railroad tracks is extremely dangerous.
The contest is open to all students in grades K through 12 living or attending school in Metra's six-county service area: Cook, DuPage, Kane, Lake, McHenry and Will. The deadline for all entries was Wednesday, Jan. 31, 2018. Information on the winners of the 2017-2018 contest can be found here.
In 2016 alone, 511 people lost their lives in the U.S. when trespassing on railroad property, according to statistics compiled by the Federal Railroad Administration, and 265 people were killed last year in collisions at railroad crossings. Each one of these deaths is a tragedy and  most were completely preventable. That's why Metra feels that it's so important to reach out and educate people, especially our children, about how to be smart and stay safe around the railroad tracks and rail crossings found throughout our region.
The Safety Poster Contest is a key part of these ongoing efforts to increase public awareness. Through the contest, we're asking students to take on an advocacy role  and create an image that clearly communicates the importance of safety near the tracks. One first-, second- and third-place winner will be selected from each grade, K through 12, and awarded the following prizes:
First Place: iPad
Second Place: $250 gift card
Third Place: $100 gift card
The winning designs will be featured in Metra's safety calendar, website, station displays and on weekend passes.
Students are also encouraged to enter the  Metra Safety Essay Contest. Contest participants are asked to describe in 300 words or less how to "Eyes Up, Devices Down: Look, Listen, Live" when near trains and railroad tracks.  There will be a first place awarded in each of the essay contest's three divisions: Grades K-4, 5-8 and 9-12. The first-place winners in the essay contest will receive an iPad.
Metra wants as many students as possible to participate and be exposed to rail safety information and encourage schools to make rail safety a school-wide project. Metra will  recognize the school that submits the most entries in the 2017-2018 Safety Poster Contest by awarding it a new computer compatible with the school's current system. Each school's entries will be totaled after the contest deadline: Wednesday, Jan. 31, 2018. 
Exclusive news and announcements are also available on the Metra contest Facebook page 
In the tabs on the left side of this page, you can see the work of past contest winners, news coverage about the contest, review Contest Rules, and find out how to submit your entry. Teachers will also find useful information under the tab marked Classroom Materials: fact sheets, coloring pages and bulletin board displays to help them integrate railroad safety messages into their lesson plans. In addition, the site includes games and information sheets designed for parents and driver education instructors.
Posters advertising the contest can be printed out in English and Spanish.
Once you've completed your entry, go here to submit your entry electronically or print out an entry form here and mail it to us at: Metra Contest, 547 W. Jackson Boulevard, Chicago, IL 60661.