Body
Why you can commute with confidence
Metra is going the extra mile to keep you safe so you can Commute with Confidence.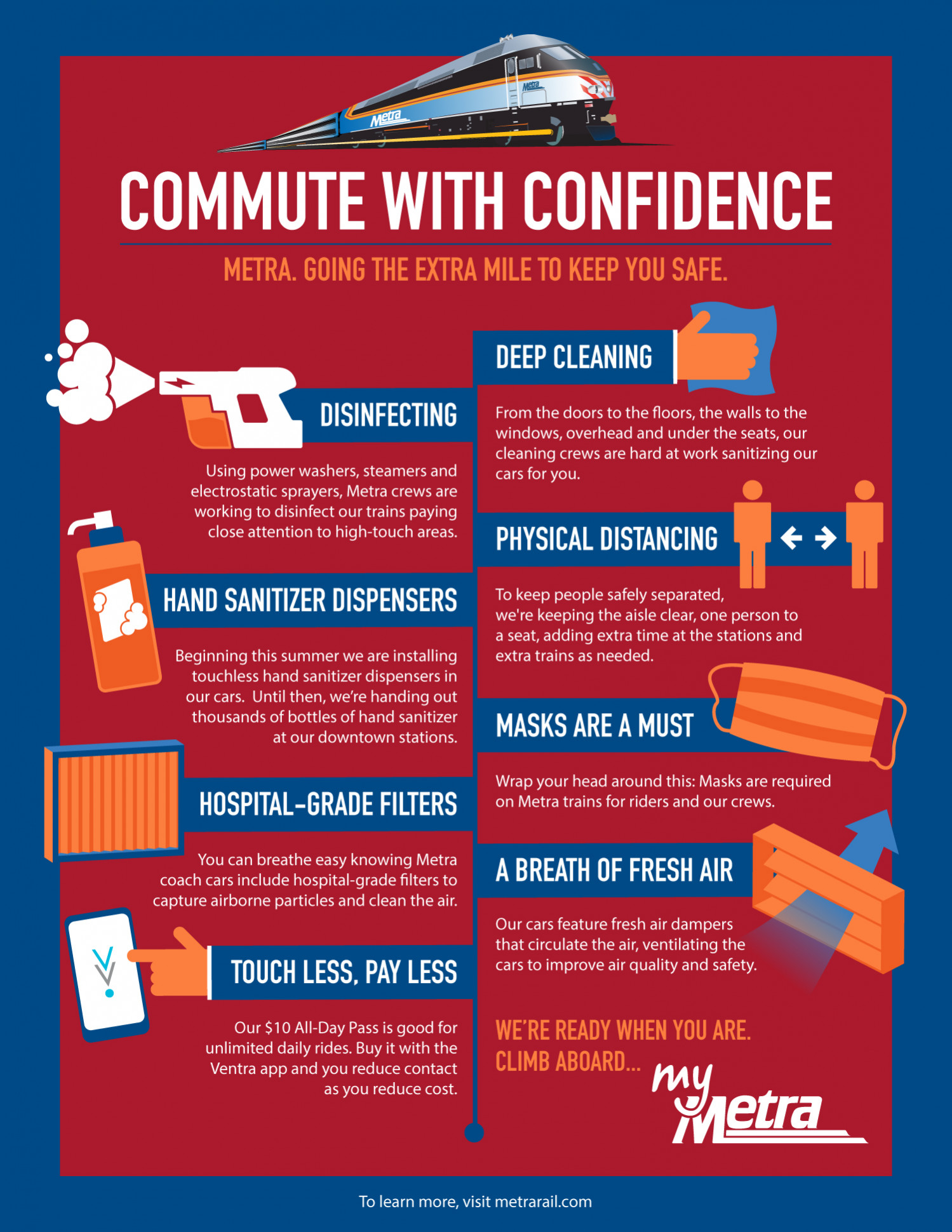 Metra schedules under COVID
What schedules are in use ?
Metra trains on all lines are operating on alternate schedules viewable here. Saturday service is suspended on the SouthWest Service Line and on the Blue Island Branch of the Metra Electric Line. (Neither line has Sunday service, and the Heritage Corridor and North Central Service do not operate on either weekend day.)
How will Metra adjust service as ridership returns?
As ridership grows, Metra will add cars to trains and add trains to the schedule to allow for passengers to physically distance as much as and as long as possible.
Dashboard showing number of riders per train
Metra will aim for trains that are no more than about half full: one passenger per two-seater on the lower level and one passenger per every other seat on the upper level. (There will be exceptions for families or others traveling together.) Metra has created a Ridership Dashboard to help riders know how crowded trains have been.
Metra fares under COVID
What's the safest way to pay my fare?
While Metra has resumed accepting cash as payment for fares at ticket windows and on trains, it strongly encourages passengers to buy their tickets with the Ventra app to limit interactions between crews and passengers. Checks are no longer accepted onboard trains.
Are there any fare incentives being offered?
Yes. Metra is now offering a $10 All-Day Pass and strongly encouraging customers to buy it in the Ventra app, giving you a "Touch Less, Pay Less" option to ride its trains safely and affordably.  All-Day Passes bought in the app expire after seven days, so don't buy them too far in advance. The new All -Day Pass can be purchased with cash, but if you boarded at a station where an agent was available, the conductor will charge an additional $5 fee for buying it on the train. (Paper All-Day Passes can only be used on the day of sale.)
Is Metra doing anything to extend the validity of tickets that expired during the pandemic?
Yes. Metra has extended the validity of all One-Way and 10-Ride tickets. If you have tickets that expired in March 2020 or later, or tickets that are scheduled to expire before Dec. 31, 2021, your tickets will be valid for travel up to and including Dec. 31, 2021. Paper tickets that expired can be used on the trains up to and including Dec. 31, 2021. However, if you have Ventra tickets that expired or will expire before Dec. 31, please contact covid19ticketinfo@metrarr.com
Doing your part: masks and distancing, etc.
Do I need to wear a face covering to ride the train?
Yes, please wear your mask or face covering for the entirety of the ride; the wearing of a mask on public transportation remains both a state and federal mandate. Ticket agents will not sell you a ticket unless you are wearing a mask. Unless you are traveling with family or friends, we are asking you to physically distance as much as possible. And please stay in your seat and do not crowd the aisles or vestibules. Help us help everybody commute with confidence.
Will I be able to physically distance from other passengers on the train?
Yes, there is currently plenty of room for riders to spread out on the train and keep their distance from other customers. As ridership grows, Metra will add cars to trains and add trains to the schedule to allow for passengers to physically distance as much as and as long as possible.
Are there hand sanitizers on the trains?
Yes. Metra has installed two additional touchless hand sanitizer dispensers on each car.
Metra cleaning under COVID
Are cars disinfected every day?
Yes. Metra is cleaning and disinfecting all high-touch areas (such as seats, seat handles, armrests, door handles, handrails, vestibule posts and handholds), including the use of disinfecting electrostatic foggers, as frequently as possible, at least once a day. It also will continue to thoroughly clean and disinfect toilets and toilet areas at least once a day.
What kind of air filters are used on Metra cars?
You can breathe easy knowing Metra cars use hospital-grade MERV-13 filters to capture airborne particles and clean the air. And the air is going to get even better – Metra will soon begin installing a new high-tech air filtration and purification system on its cars. Read more about that new system here. Cars also have fresh air dampers that circulate the air and ventilate the cars to improve air quality and safety. The air on a Metra car is recirculated every 4 minutes.
What is Metra doing to clean the stations?
We are cleaning Metra-maintained stations multiple times a week, paying special attention to disinfecting high-touch surfaces. We are also bringing in extra crews to increase the cleaning and disinfecting of downtown stations. We have also asked the municipalities or other entities that maintain the stations in their communities to do the same.
Is it safe to ride public transportation?
Yes. Since the pandemic began, Metra has provided more than 5.4 million rides, and not a single case of infection has been traced back to riding our trains. But don't take our word for it: Studies have shown no correlation between transit use and infection rates. Read one here.
Our "Ready for Your Return" Commercial
A Video About Wearing Face Coverings on Metra
A Video About Our Cleaning Efforts
What Other Customers are Saying About Riding Metra
A Video About Our Touchless Hand Sanitizer Dispensers